The Candy Man again confirmed his dislike for being away from home with a last start flop in Victoria, but history says the punters should be wary of the big grey horse when he returns to home footing at Doomben on Saturday.

The Barry Baldwin trained seven-year-old shoots for a 12th career win in the $125,000, Listed Tails Stakes (1630m) at Doomben.

He has previously come back from failed southern campaigns to turn his form around quickly and connections are hoping history will repeat at Doomben.

The Candy Man had a forgettable spring in Sydney and then after a fair first up run at the Gold Coast in March, failed to fire when sent to Victoria for the Golden Mile at Bendigo, where he wound up 14th, beaten 13 lengths.

"I talked to Ben Allen, who said he just didn't want to race that way," Baldwin said. "He ran off at every corner, he didn't even want to trot down to the chute, so his advice was that it didn't matter how long we left him down there, it would be a long time before he would learn to adapt to that way."

All the signs since returning home suggest The Candy Man will return to something like his true form this week, albeit with some reservations about the broken preparation with a trip to Victoria and back thrown into the mix.

"It was a long trip home, so the crux of it all is that he may be a shade under done but he's had a fair bit of work and he's done well since he's come back," Baldwin said.

"He does change (when he goes away). Peter (Moody) was very good (in looking after him in Victoria) and on the Tuesday at Pakenham they all thought he worked very well, but when it come race time, he just wanted nothing to do with it.

"There's an old saying that somebody with a plate in the head has excuses, well he's got seven!

"He will be competitive."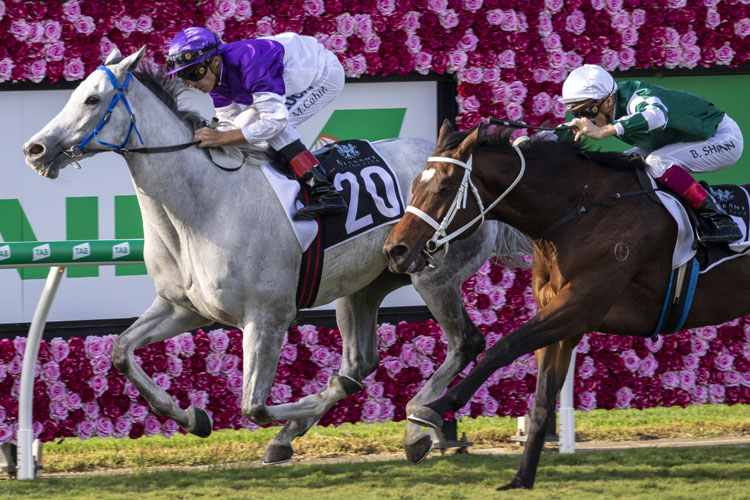 The Candy Man, picture Stevehart.com.au